Some of my Favorite Arcade Games
Here are some arcade games I enjoy playing. Crossy Roads below is definitely one of favorite go-to games for top jackpots.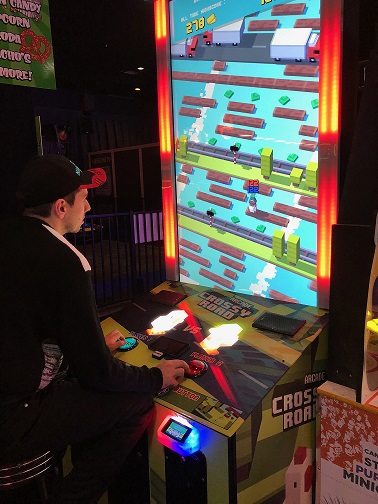 Stacker is a redemption game manufactured by a leading developer called LAI Games. The object of the game is simple: Line up all the rows of blocks on top of each other to win a prize. The standard layout of the game begins with a row of three cubes moving from side to side across the screen, and as soon as the player presses the start/stop button on the panel, the cubes will stop moving. Another row is then placed on top of the previous row, and the movement of the blocks gradually begin to speed up. If the player fails to align any of the subsequent squares with the previous row, any overhanging squares will be removed from the roster, and the number of available squares will be reduced, first to two, and then to one. A player who successfully stacks eleven rows can either choose from a selection of minor prizes, or to continue playing the game, to see if they can win a major prize. Players often choose the latter. This is often difficult to do because, if at any point the player misses out, the game is over. Stacker has been identified as a game of skill. Although, it is difficult to stack all fifteen rows of blocks in succession, it can be done. If somebody does manage to win a major prize, the blocks flash on and off, spelling the word 'win.' Major prizes will usually feature cell phones, gift cards, hand-held game consoles, and stuffed animals.

Classic Arcade Games

Once classic, now turned cult favorite arcade game Space Invaders, is celebrating its fortieth birthday. This two-dimensional shooter game may be slowly disappearing from the internet, but not from our hearts, as it has made history as one of the most bestselling games of all time, and it has maintained its relevance since its release in 1978. It may be hard to believe, but it adheres to gamers of all ages, including ones from later generations. Space Invaders gameplay is simple by modern day standards, but it was considered revolutionary during the time of its development, and in the wake of brick-breaking games. The object of the game is for the player to move across the screen with a laser cannon and shoot missiles at descending rows of swarming aliens before reaching the bottom. It may sound like a simple concept, but game creator Tomohiro Nishikado states that development was a struggle due to the strong impact of hardware limitations. Because ping-pong fusion games such as brick-breaker were so successful at the time, Nishikado strived to make a game that was similar in style. Initially, the game was planned to feature either battling tanks or airplanes, but the idea was scrapped by Taito. Nishikado sums up the whole experience as 'trial and error.' It took a few months for the game to be licensed outside of Japan, but Midway Games sought the opportunity and the following year, the title was launched, and it was featured in arcade cabinets across the United States.
More Favorite 

Arcade 

Games
There isn't much to say about Spin 'n' Win or Jumpin Jackpot, but they are always great games to play at a trip to Dave and Buster's and still some of my favorites. Tippin' Bloks is another fun addition to new arcade games. The goal is to stack nine blocks. It's pretty similar to Stacker, but there is an interesting twist. The blocks stack up until the final level is reached. If three blocks are dropped, the game is over. So, you are given a bit more leeway, but the gameplay is just as tricky as any redemption game.